What started as a small celebration party for key industry insiders to celebrate the close of Winter Music Conference (WMC) in Miami, Florida has ballooned into a powerful global brand. Ultra Music Festival has been the marquee event of spring since the dawn of dance music. In addition to having satellite festivals in over 20 countries worldwide, Ultra has since gobbled up WMC as apart of its conglomeration. But it all began in Miami.
Ultra Miami has just released its unrivaled 21st edition line-up. It's the first time the festival has had a whole section of headliners dedicated to the live instrument set. So we got to digging back into Ultra's past line-ups only to find that artists with live instruments is nothing new. In the past, Justice, The Chemical Brothers, Moby, The Prodigy, The Killers, and The Cure have all graced the Ultra main stage. But it is the first time a significant group of notable live acts has graced the line-up, which many industry insiders have been saying marks the beginning of a new era for dance music.
To celebrate the ascendance of the live act in dance music, and just for everyone's  referencing pleasure, here is the complete history of Ultra line-ups (1999-2019).
---
Ultra Music Festival 1 (March 25, 2000, South Beach)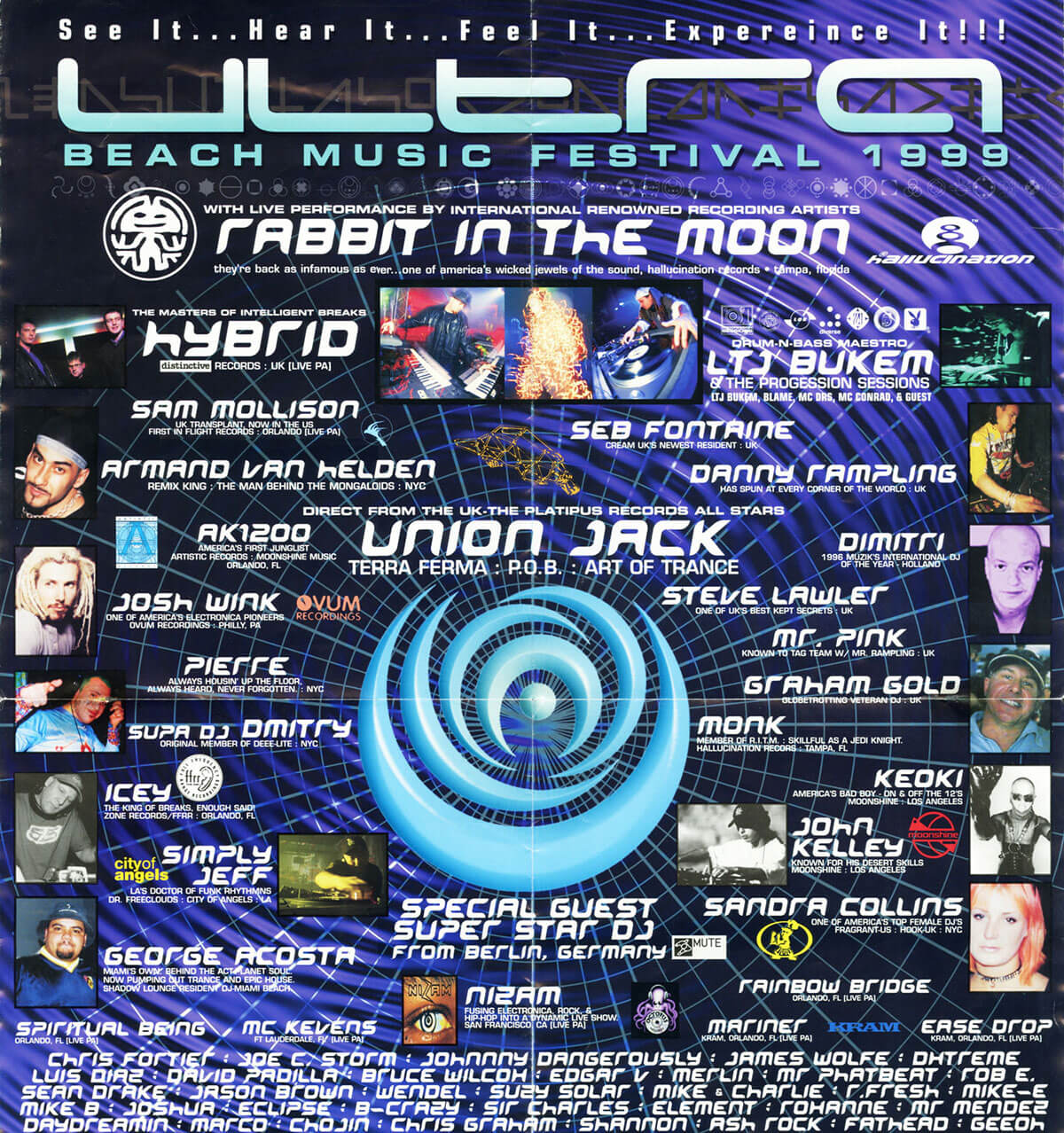 Ultra Music Festival 2 (March 25, 2000, South Beach)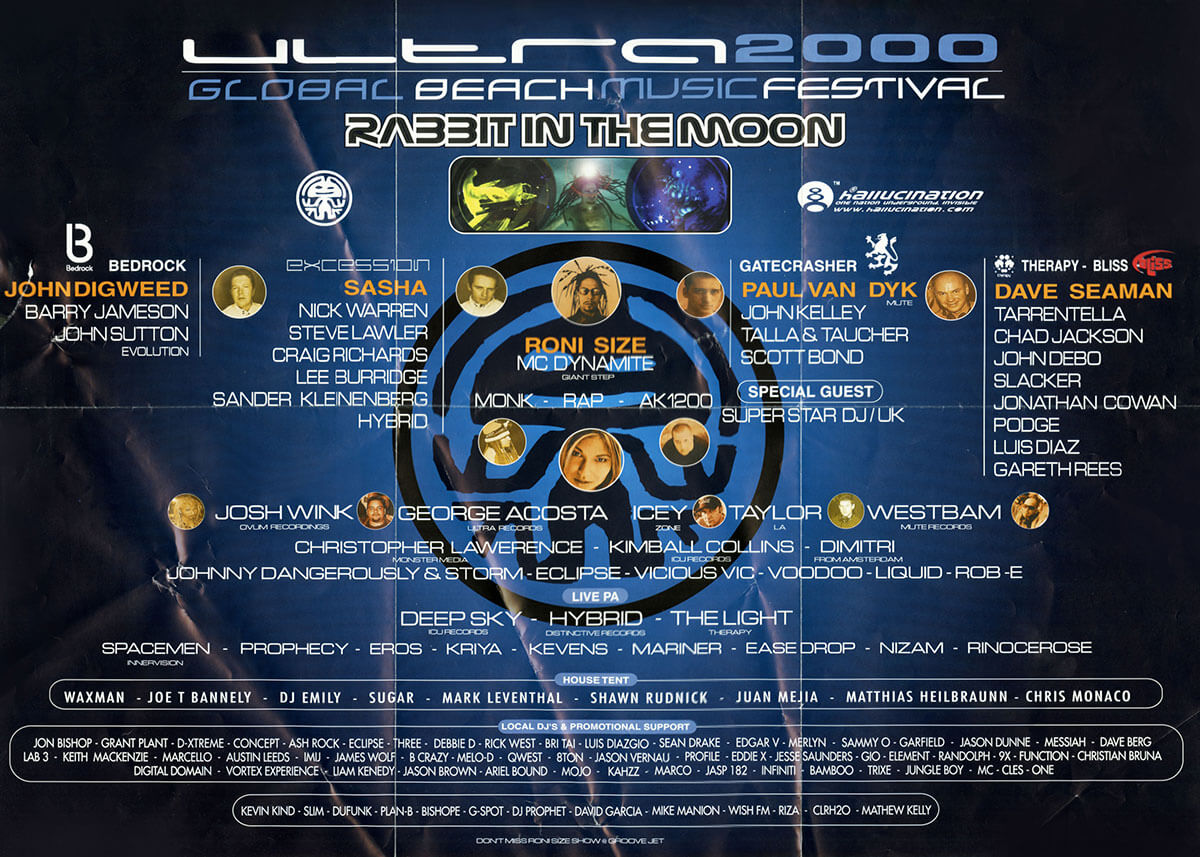 Ultra Music Festival 3 (March 24, 2001, Bayfront Park)
Ultra Music Festival 4 (March 22, 2002, Bayfront Park)
Ultra Music Festival 5 (March 22, 2003, Bayfront Park)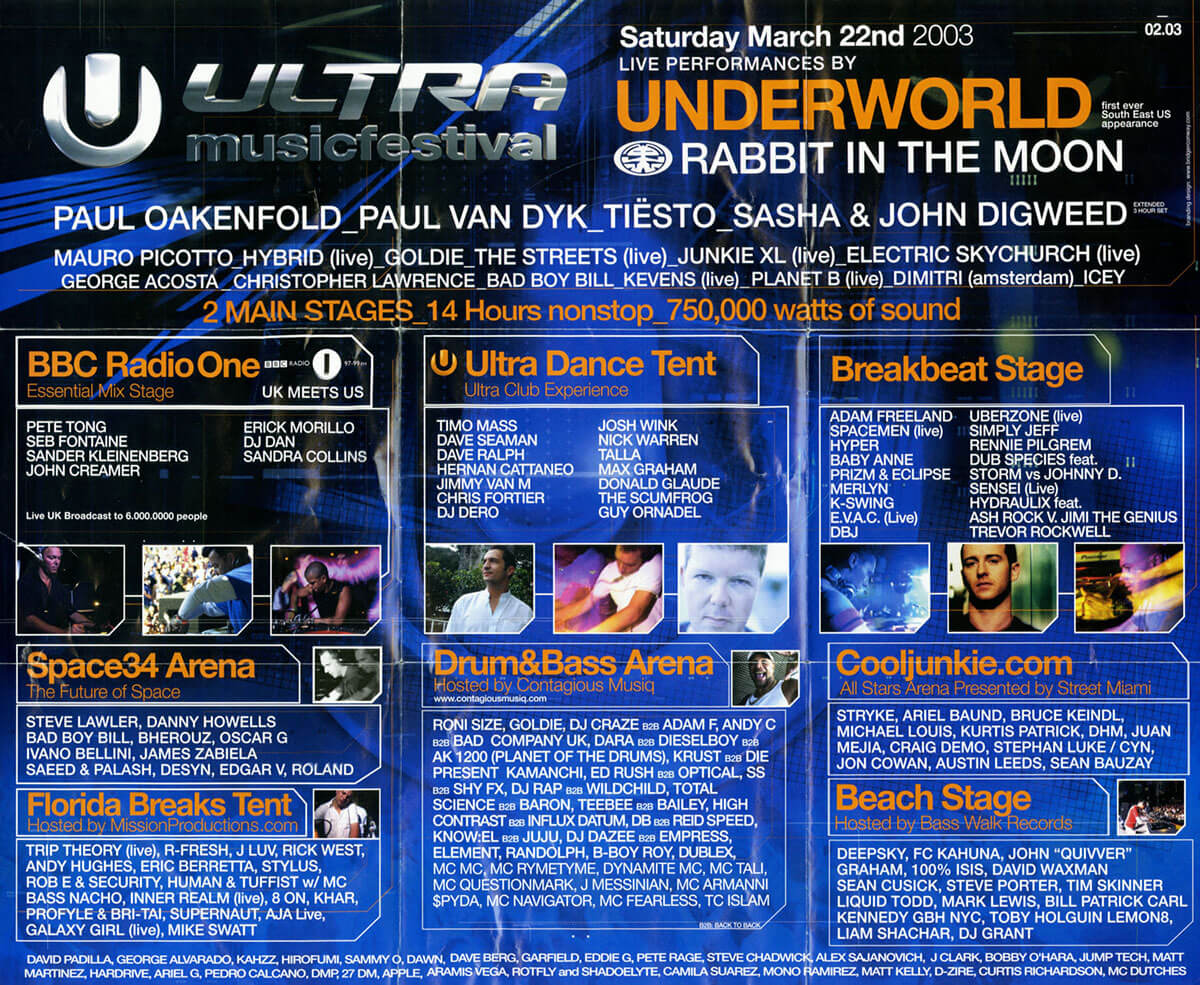 Ultra Music Festival 6 (March 6, 2004, Bayfront Park)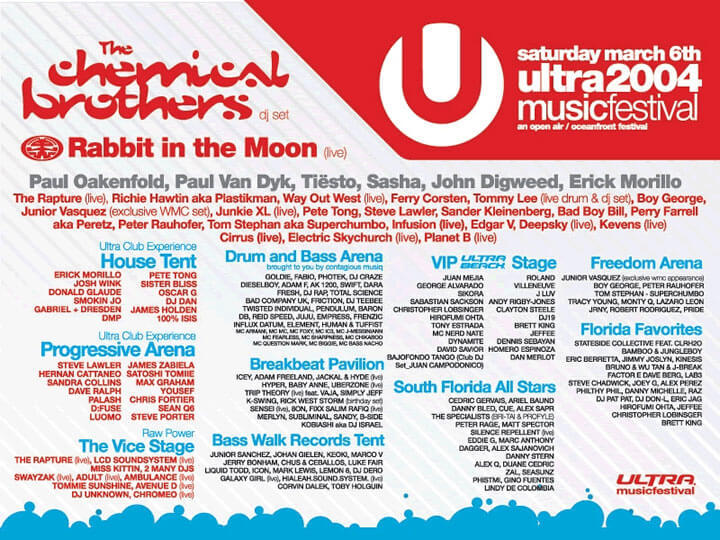 Ultra Music Festival 7 (March 26, 2005, Bayfront Park)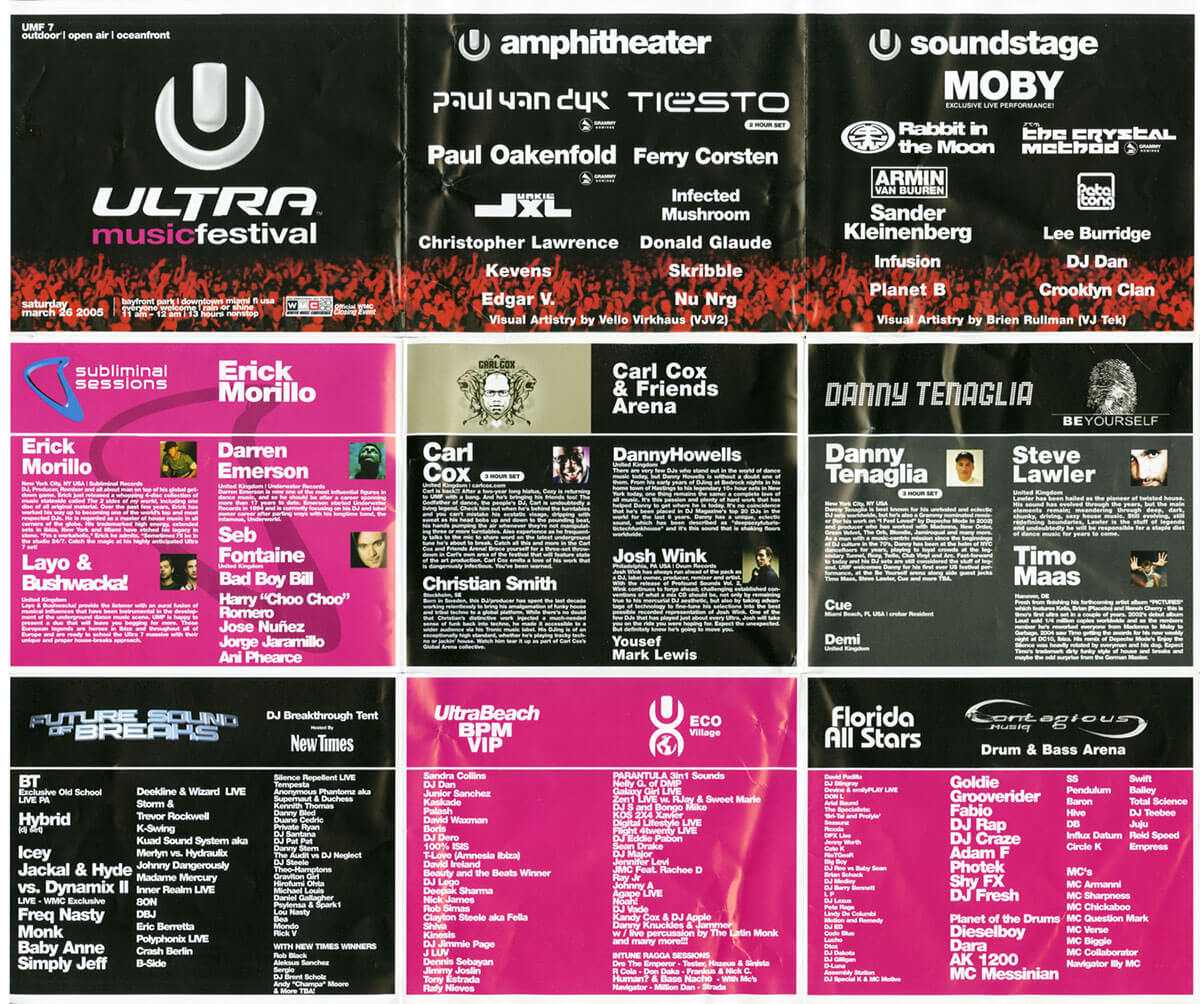 Ultra Music Festival 8
(March 25, 2006, Bicentennial Park)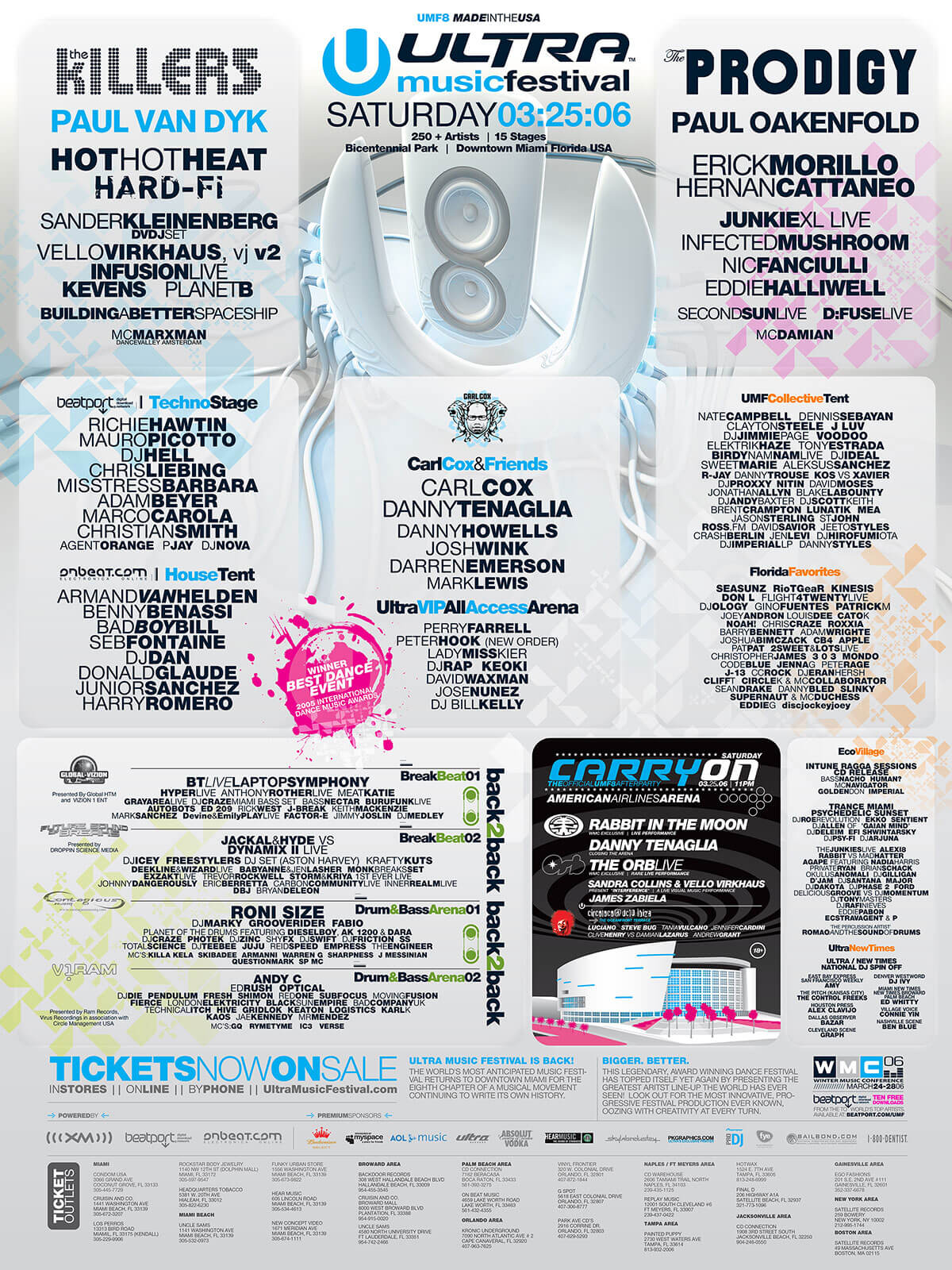 Ultra Music Festival 9
(March 23 – 24, 2007, Bicentennial Park)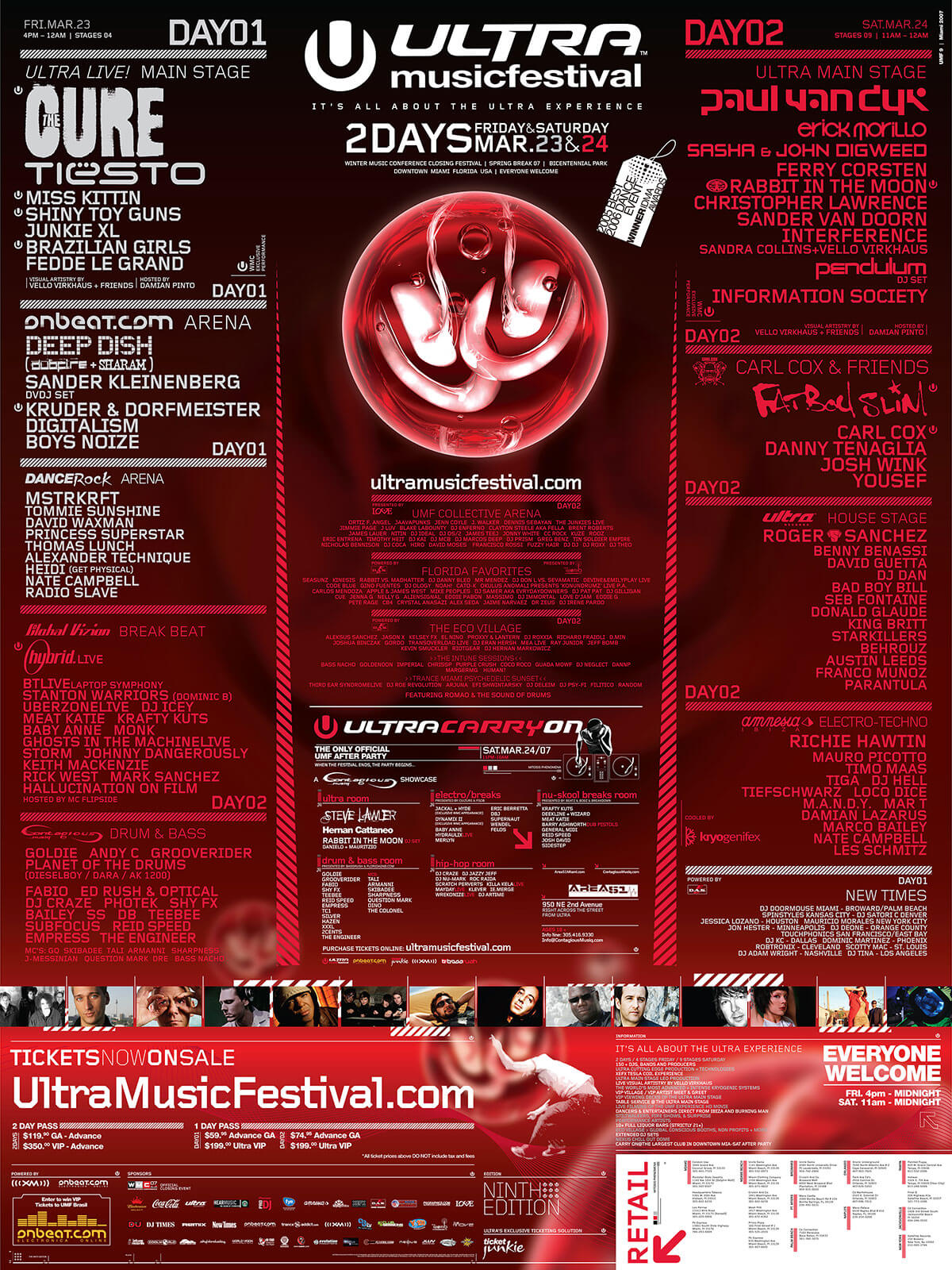 Ultra Music Festival 10
(March 28 – 29, 2008, Bicentennial Park)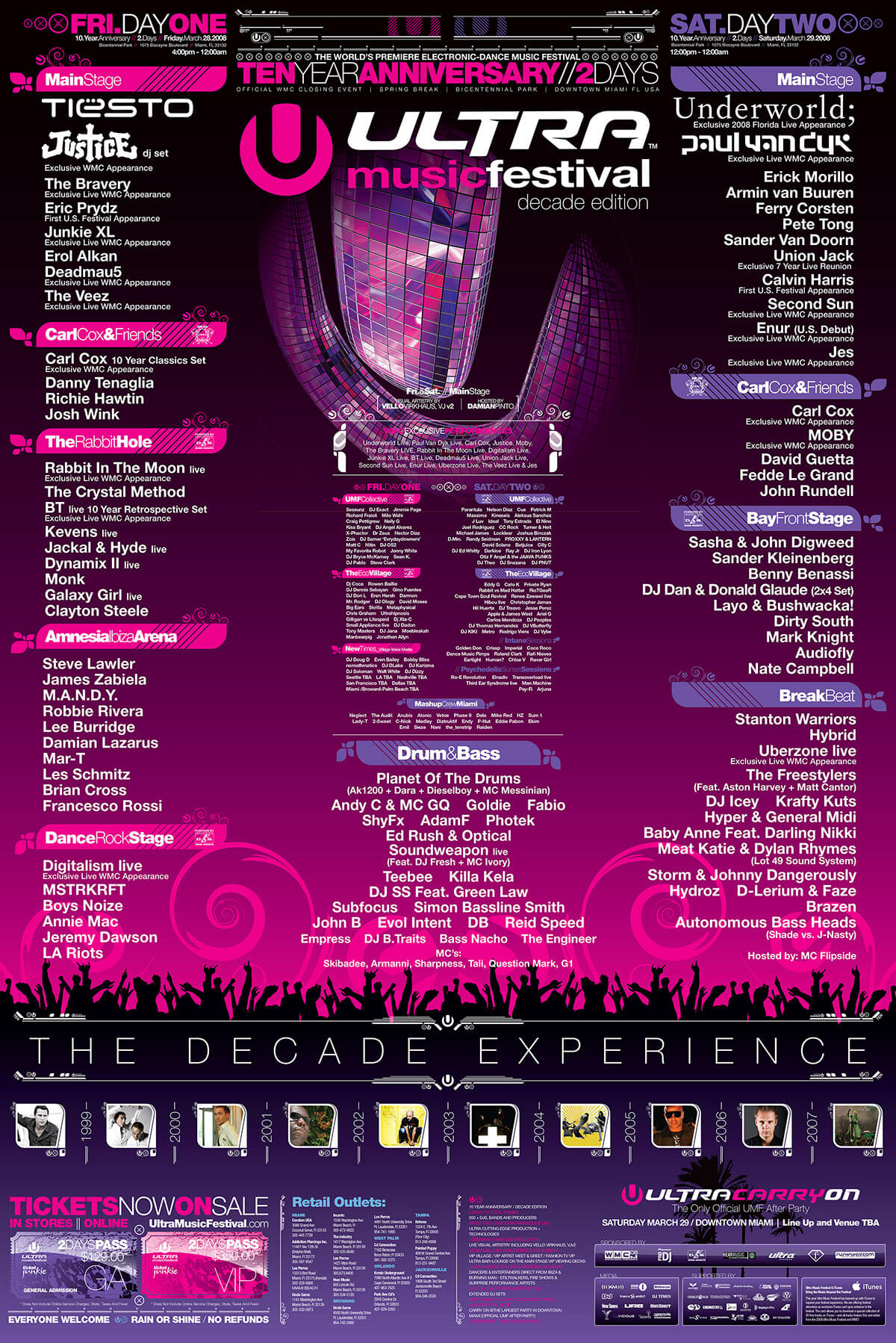 Ultra Music Festival 11
(March 27 – 28, 2009, Bicentennial Park)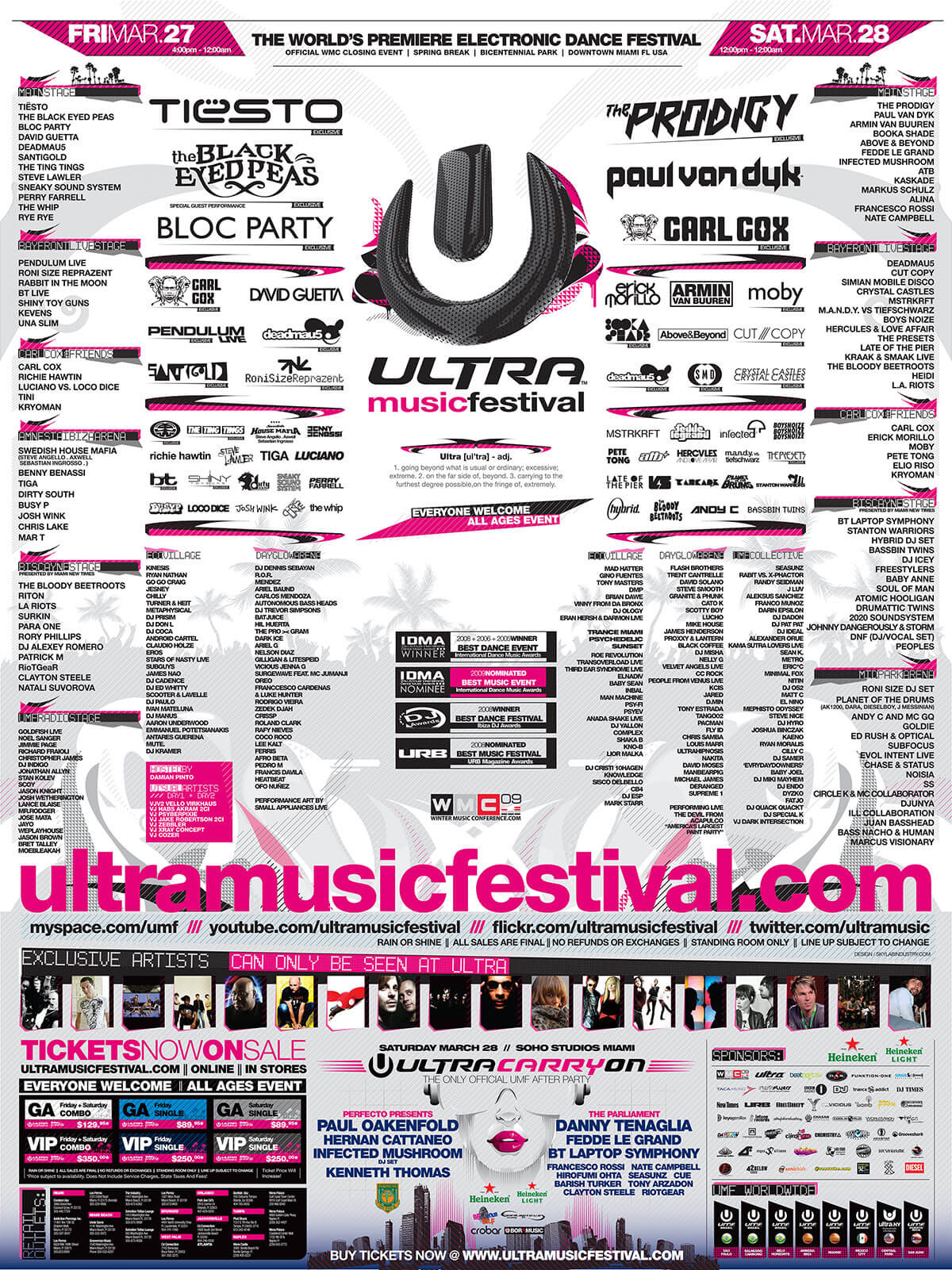 Ultra Music Festival 12
(March 26 – 27, 2010, Bicentennial Park)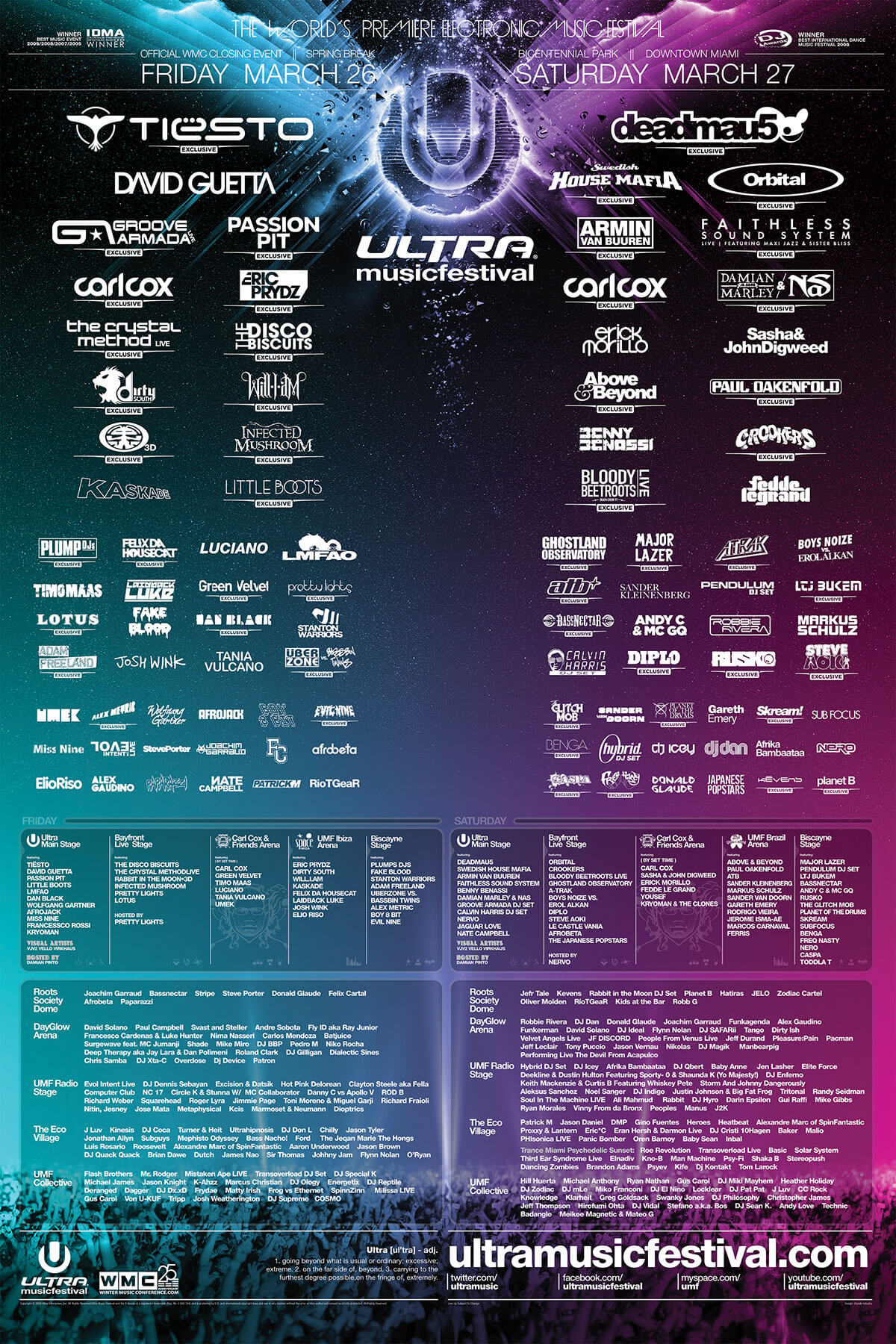 Ultra Music Festival 13
(March 26 – 27, 2011, Bicentennial Park)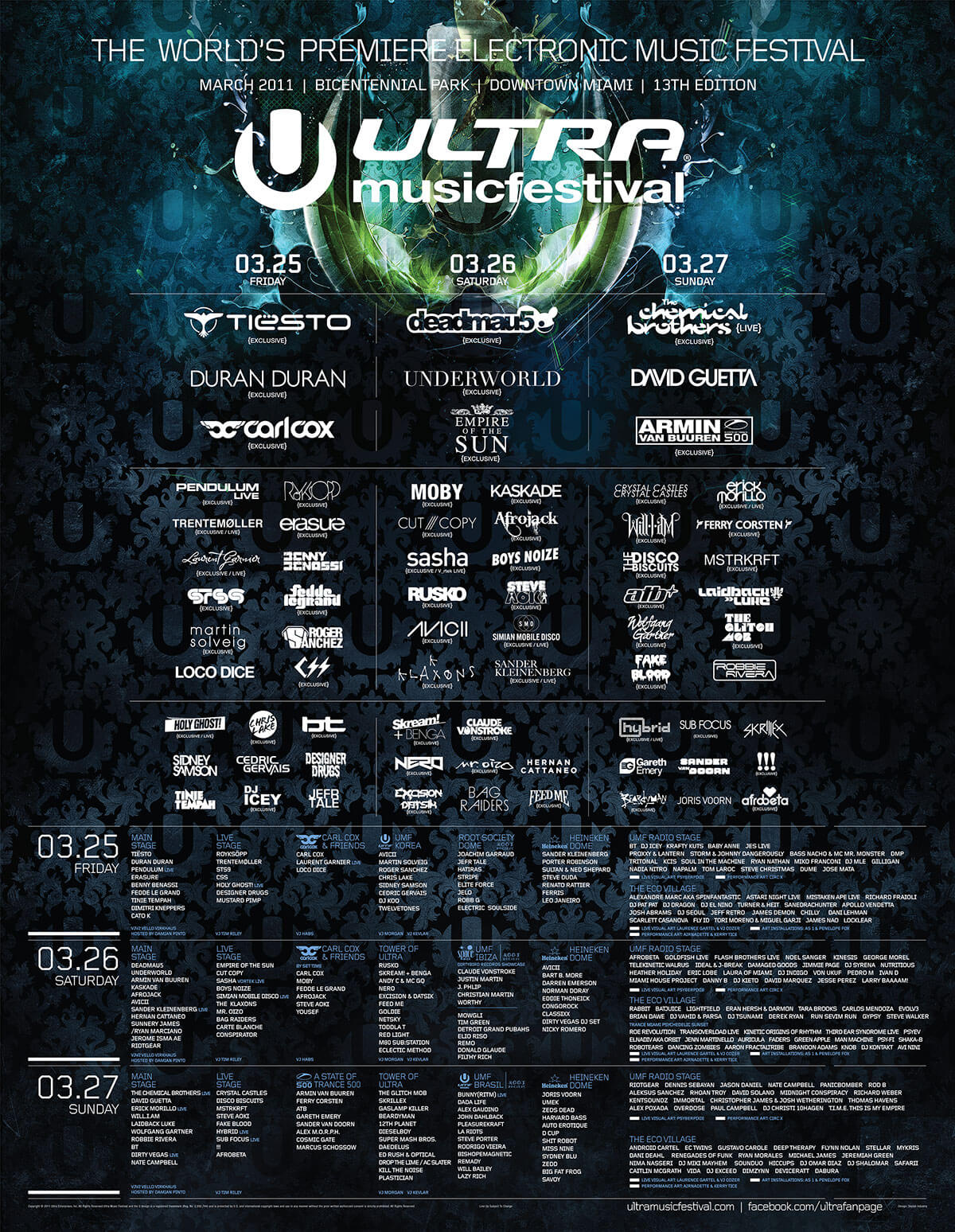 Ultra Music Festival 14
(March 23 – 25, 2012, Bayfront Park)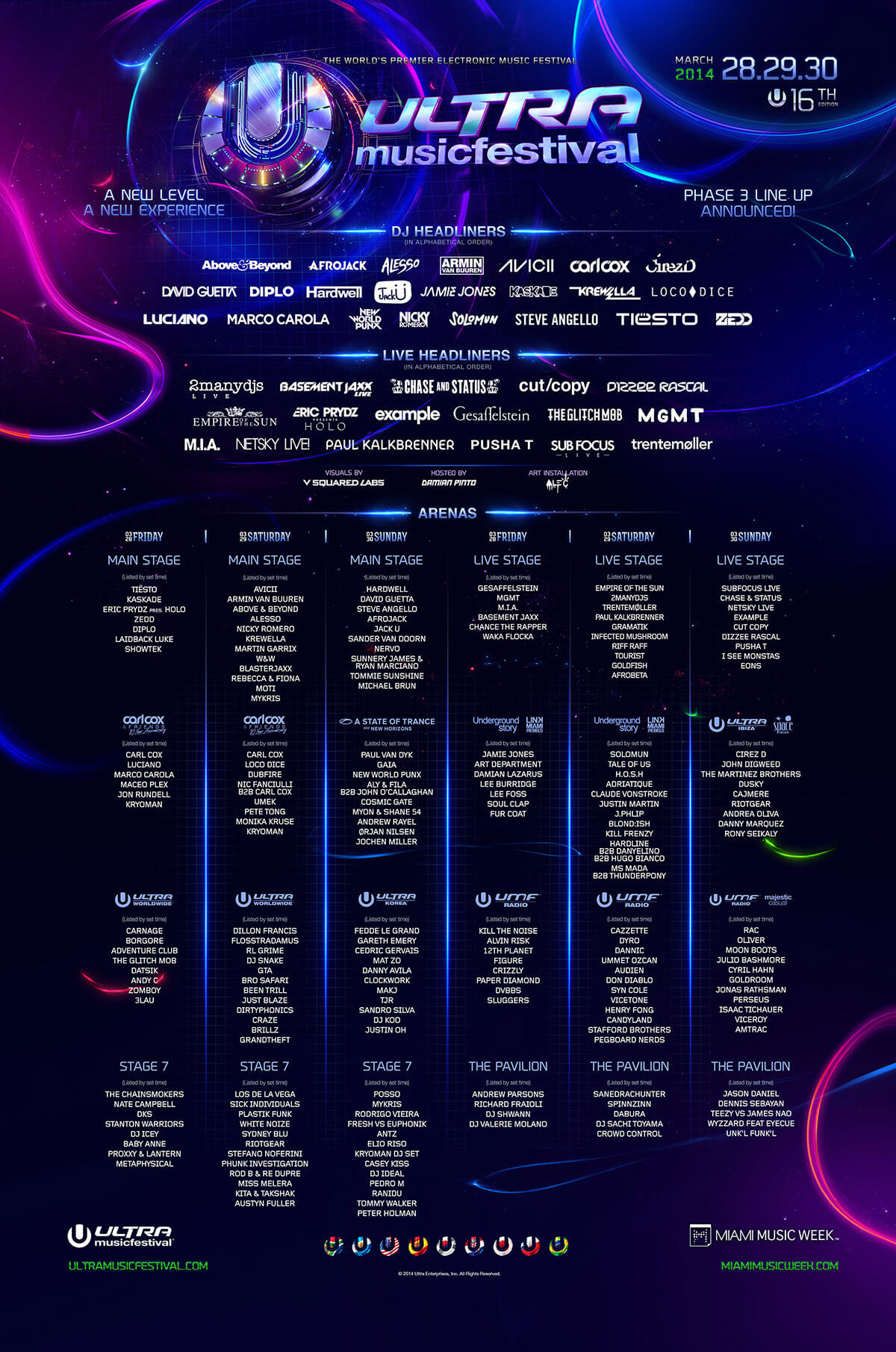 Ultra Music Festival 15
(March 15-17 & 22-24, 2013, Bayfront Park)

Ultra Music Festival 16
(March 28 – 30, 2014, Bayfront Park)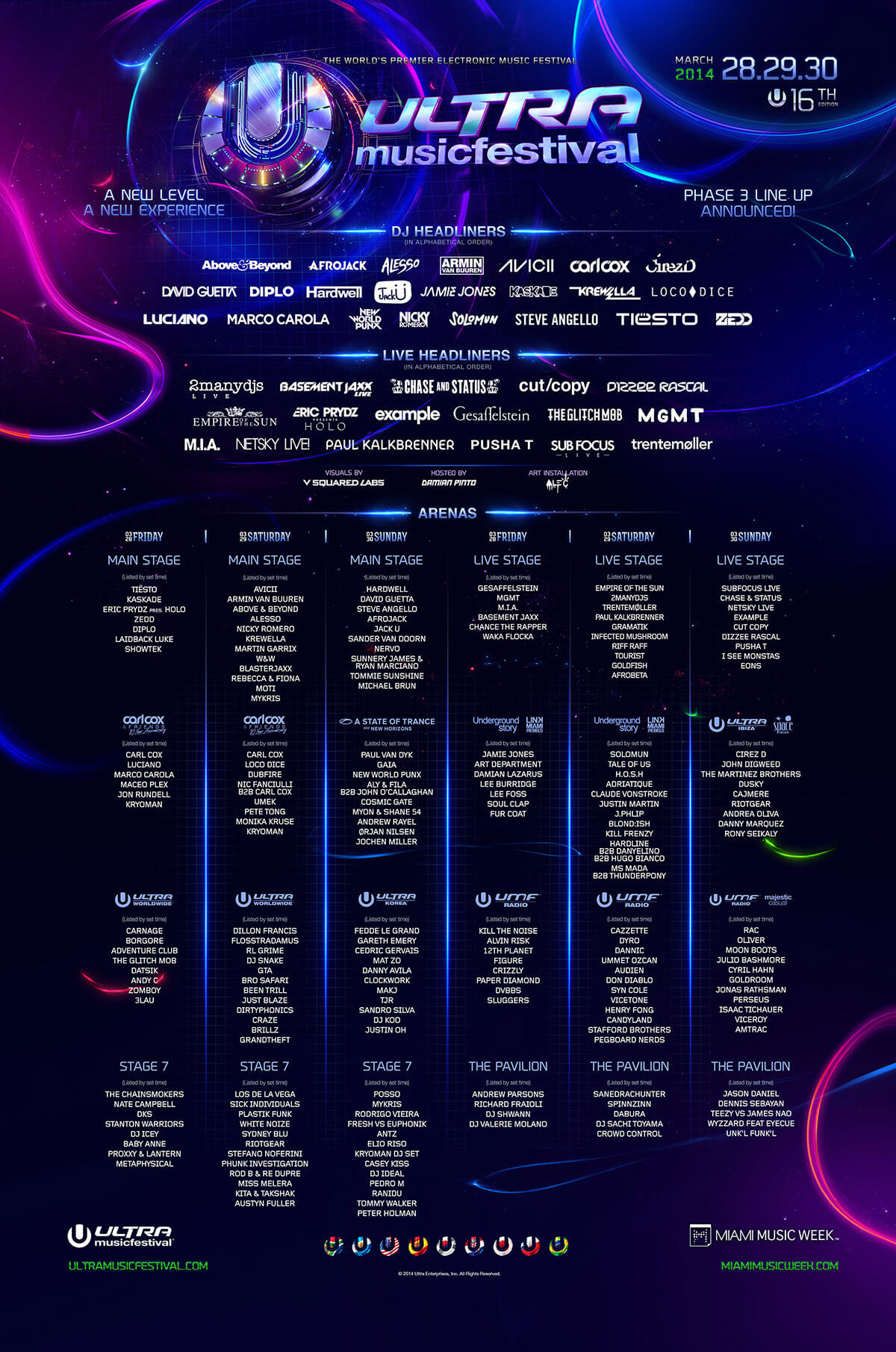 Ultra Music Festival 17
(March 27 – 29, 2015, Bayfront Park)

Ultra Music Festival 18
(March 18 – 20, 2016, Bayfront Park)

Ultra Music Festival 19
(March 24 – 27, 2017, Bayfront Park)
Ultra Music Festival 20
(March 23 – 25, 2017, Bayfront Park)

Ultra Music Festival 21
(March 29 – 31, 2019, Virginia Key Beach Park/Miami Marine Stadium)