Bassnectar announces Halloween 'Freakstyle' line-up at Northcoast
The doors have officially opened for Bassnectar's first night of BassCenter XII. The king of sound, also affectionately known as Lorin Ashton, is bringing TroyBoi, KLO, and Tek Life to get the annual calibration started off right. Ashton always overdelivers on a massive extended set of family-craved and -chased tracks that Bassnectar pulls out of the vault solely for the Mothership's spectacle-styled affair.
But the most noteworthy news of the day comes from Chicago's Northcoast Music Festival, where Bassnectar played nice little warm-up set before jetting off to the bass head mecca in Hampton, Virginia. During his set, Ashton revealed the line-up for his first Halloween run in nearly three years, which was previously rumored to be taking place once again in Grand Rapids, Michigan at the Delta Plex (although that has now been debunked by the official announcement).
The two-night curated event, which Bassnectar revealed previously would be taking place November 1-2, will feature lineup support from Kursa, Stylust, J:Kenzo, and some interesting newcoming talent. Dubbed "Freestyle: A Day of the Dead Dark Party," the event was born out of night three of Colorado's Freestyle Sessions. When the venue in Denver canceled night two due to emergency venue maintenance, Bassnectar and his team rushed to move the event to the Denver Coliseum to give traveling bass heads at least one more night of music.
With 24 hours to move all their equipment across town, the Bassnectar team chose to bring their incredible PK sound system along with a few lasers over lugging the massive LEDS that made up the Freestyle production rig at 1stBank Center. The whole point was to focus on the music and the vibes over his insane visuals. It was actually a dream come true for Ashton, who said he always wanted to host something large scale of that nature to bring his audience back to the early days of dark underground clubs. Thus, Freakparty was born — a dark party with only lights and lasers and uncanny energy. Now, for all those who didn't get to experience the unmatched vibes and sounds, here's your chance. 
More official details to come so stayed tuned because you know you love hearing it here first!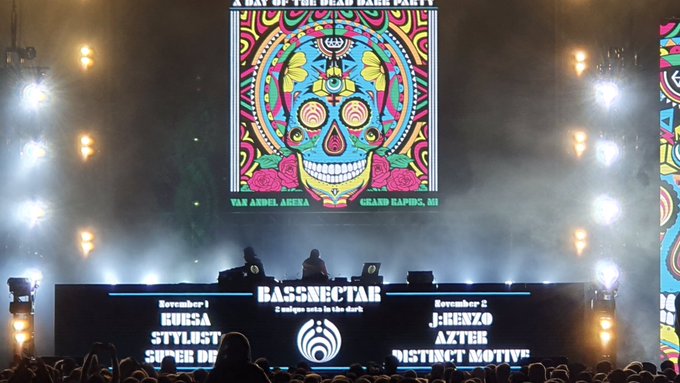 Information seeker. Dog lover. PhD drop out. College professor by day, EDM photographer by night.